This is the inspiration for my new sundress: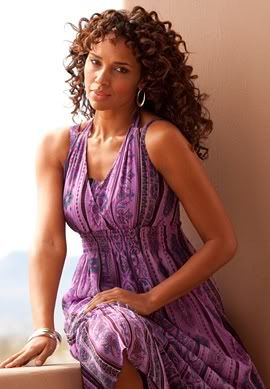 Isn't she pretty? This is from a plus size online store OneStopPlus, unfortunately they say they use "plus sized" models...if they do I'd love to be that 'plus' size.

I'm not sure if you can tell by the picture, but what struck me on this dress was the top portion. I love how it has a halter top over a tank top. I'm not exactly sure how it's constructed, but mine will be constructed by attaching the tank top to the waistband, the tank top going all the way around my back. But I'll have the halter portion terminate in the side seam of the dress. I also won't do smocking since first, I don't know how (yes, I can learn) and second I'm using a stretchy knit so there's no need for smocking. Clear as mud? That's okay, I know what I'm talking about LOL.

Well I'm proud to say I'm down another pound! Since cutting gluten out of my diet I have consistently, without fail, lost 1/2 pound every week. Sure that's not much, but over the course of a year that's 26 pounds! If I keep this up, it'll only be a few years before I'm in my proper weight range. I'm just concerned that my body will get into a 'comfy' weight and want to stay there. But so far so good...I'm actually 2 pounds below a comfy weight my body has had for many years.

For the last 12 or so years I've always been 2 pounds above the weight I am now, not generally below it unless I fight pretty hard. My weight would yoyo up from there and drop back down over and over. Now I've seamlessly gotten down 2 pounds below that weight...and I'm hoping that keeps up and I don't become stuck again.